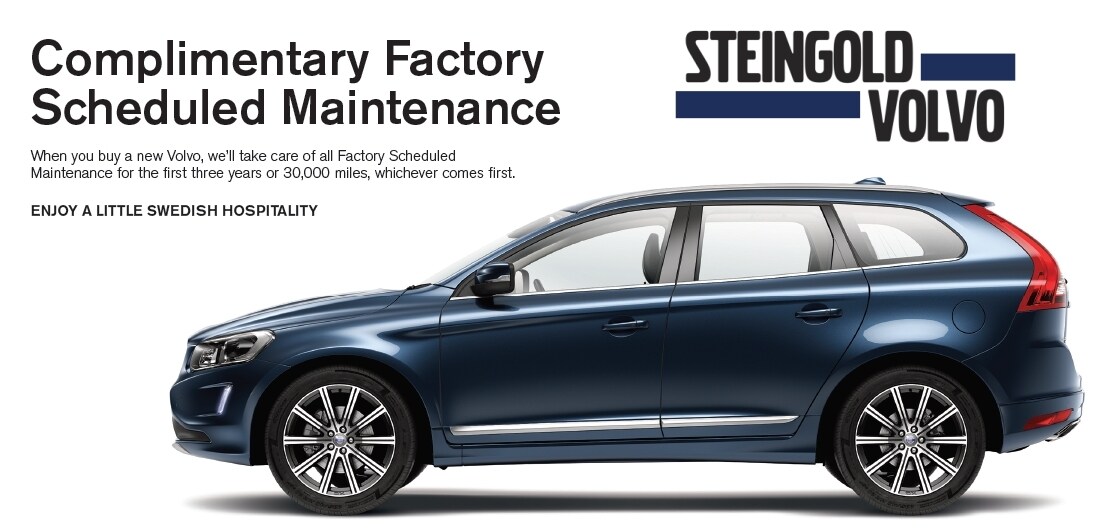 At Steingold Volvo, we are committed to a premium ownership experience for our customers. To further enhance your ownership experience, all Volvo vehicles sold new and registered in the US, will include Complimentary Factory Scheduled Maintenance.
The maintenance program covers the first three services at no charge: 10,000, 20,000, and 30,000 miles.*
(*3 years or up to 36,000 miles.)
Please refer to the Warranty and Maintenance Records Information Booklet for more details.
Regularly scheduled maintenance service checks performed by your authorized Volvo retailer will help ensure trouble free operation of your Volvo.
OPTIONAL PRE-PAID MAINTENANCE UPGRADE PLANS
You can add even more maintenance coverage with Volvo Optional Factory Scheduled Maintenance Upgrade Programs, which are available for sale on virtually all model year vehicles. We have enhanced our Factory Scheduled Maintenance Program with offers to cover you up to 100,000 miles. Two upgrade plans are available: Prepaid Maintenance and Prepaid Maintenance with Wear Item Coverage.
You can find more detailed information by visiting our
Prepaid Maintenance Upgrade Plan
page.