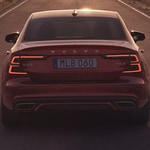 When you are in the market for a new car, you should consider the Volvo S60. This is a popular luxury sedan that has many great features. Some of the popular features of this vehicle are its performance features.
The S60 comes standard with a four-cylinder engine that can produce around 250 horsepower. There is also an optional supercharged engine that can produce closer to 315 horsepower. Those that are looking for the most horsepower possible should consider the plug-in hybrid engine that can produce over 400 horsepower. With either engine option, you will still receive good fuel efficiency, which can average over 28 MPG on a blended basis.
When you are interested in the Volvo S60, you should come to Steingold Volvo Cars as soon as you can. When you come here, you can learn far more about your performance options. You can also test drive the S60 today to see the performance for yourself.